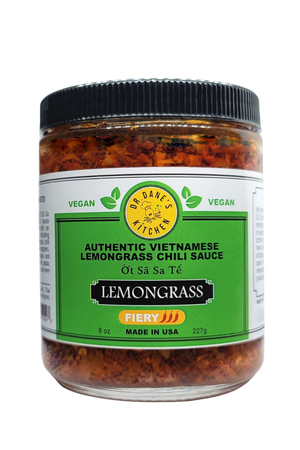 Dr. Dane's Kitchen
Vegan Authentic Vietnamese Lemongrass Chili Sauce (Ot Sa Sa Te)
Sale price Price $15.00 Regular price Unit price / per
Available in limited quantities.
Shipping
calculated at checkout.
About
SAVORY. SPICY. TANGY. Our Vegan Authentic Vietnamese Ớt Sã Sa Tế is an all-natural Vietnamese Lemongrass Chili Sauce simmered in pure soybean oil with fresh chopped garlic, lemongrass, chili flakes, sea salt, and Thai chili peppers. The result is a lip-smacking Sa Tế, rich with flavor, spice, and mouth-watering aroma.
Ingredients:
Pure Soybean Oil, Garlic, Thai Chili Peppers, Chili Flakes, Lemongrass, Sea Salt. (No MSG or Added Preservatives)
FREE SHIPPING OVER $75
Get FREE SHIPPING in the U.S. when you checkout with $75 or more from Dr. Dane's Kitchen!
How We Give
25% of our profits directly benefit the Kids 4 Smiles organization and their work to improve communities, schools, and the environment.
How to Enjoy
Our Vegan Authentic Lemongrass Chili Sauce (Ớt Sã Sa Tế) pairs incredibly well with your favorite veggies and salads, noodle soups, pasta, fried foods, sandwiches, tacos, and dessert!
This small batch production of Dr. Dane's Authentic Vietnamese Lemongrass Chili Sauce (Mắm Ruốc Ớt Sã Sa Tế) combines the very best of the season's ingredients to bring you a premium tasting experience consistent with every bottle.
Spice Level: 3/3 - a bold, slow-building heat with just the right amount of kick!
✓ No Preservatives
✓ No MSG
✓ No Artificial Flavors
Keep Refrigerated for up to 6 Months.
Made in USA