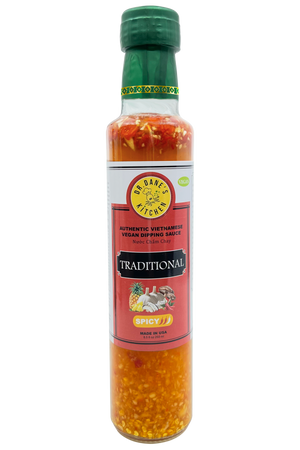 Dr. Dane's Kitchen
Vegan Traditional Authentic Vietnamese Dipping Sauce (Nuoc Cham Chay)
Sale price Price $10.00 Regular price Unit price / per
Available in limited quantities.
Shipping
calculated at checkout.
About
Our Vegan traditional Vietnamese dipping sauce is a sweet-yet-spicy nước chấm chấy that blends juicy bits of pineapple and Shiitake mushrooms with fresh-pressed lime juice, minced garlic, pure cane sugar, then finished with fiery Thai chili peppers.
Ingredients: Pineapples, Shiitake Mushrooms, Water, Sugar Cane, Vinegar, Garlic, Lime Juice, Thai Chili Peppers. (No MSG or Added Preservatives)
How to Enjoy
Enjoy our Traditional Vietnamese Dipping sauce with spring rolls, summer rolls, steamed or fried dumplings, or spooned as a dressing over salads or as a marinade for chicken, pork, lamb chops, seafood, and vegetables.
Spice Level: 2/3 - a moderate yet quick-hitting heat with just the right amount of kick from the Thai Chili Peppers. See how this ranks on the Scoville Scale!
✓ No Preservatives
✓ No MSG
✓ No Artificial Flavors
Keep refrigerated for up to 6 months. Best Used By 3 Months.
Shake well before use.
Made in USA.
FREE SHIPPING OVER $75
Get FREE SHIPPING in the U.S. when you checkout with $75 or more from Dr. Dane's Kitchen!
How We Give
25% of our profits directly benefit the Kids 4 Smiles organization and their work to improve communities, schools, and the environment.